Dura Rez® Sun-powered Ding Repair for SUP's and Surfboards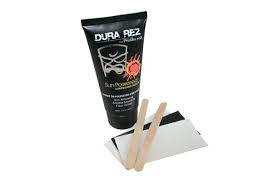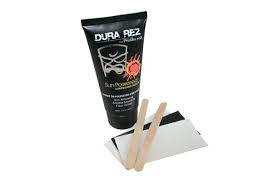 Dura Rez® Sun-powered Ding Repair for SUP's and Surfboards
Other products have limited shelf life, Dura Resin cures in full sun in less than 3 minutes for a professional finish that saves you time and money!
Ultra Clear, SunPowered, Fiber Filled Dura Resin Works on Epoxy and Polyester, will not harm the foam core, and NEVER hardens in the tube.

Non-yellowing SunPowered resin that sets up fast and nearly showroom perfect when the clear cover sheets are used to contour and magnify the suns effect on this premium resin.

Dura Resin
* Safe for Epoxy and Polyester
* Non-Yellowing Resin
* Fiber Filled
* Better Price than the Competition
* Super Fast 3 Minute Cure
* Endless Shelf Life

Dura Resin sets a new standard in Surfboard Repair! Includes
* Large Fiber Filled, Ultra Clear, Universal Resin Tube
* 2 Grits Sandpaper (total 3 pieces)
* 2 Smoothy sheets
* 2 Mixing Sticks

You can fix your Epoxy or Polyester surfboard in seconds and never worry about this resin getting hard in the tube.
There is enough resin in this tube to do over 50 repairs and potentially make or save you hundreds of $$$!